AR (Augmented Reality) has brought revolutionary changes in all major industry sectors, and the healthcare sector is no exception! This emerging technology has taken this highly regulated sector by storm. It can transform patient experiences in the next-gen solutions. We can certainly expect that over the period, this technology will be combined with other emerging technologies like AI and IoT to build robust and smarter healthcare solutions. 
Before moving to the use cases of augmented reality in healthcare, let's go through some of the most fascinating facts about the impact of this technology in the healthcare sector.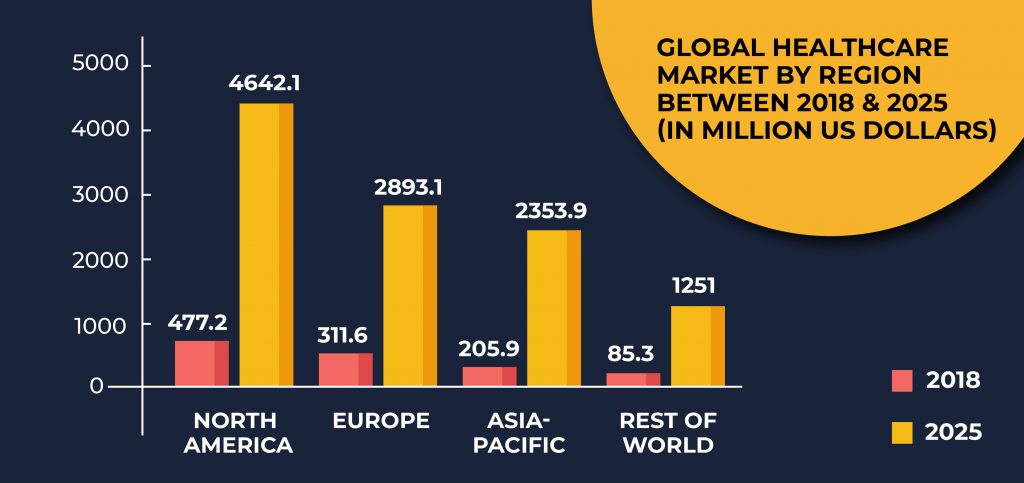 Interesting Facts related to Augmented Reality in Healthcare
The AR in the healthcare sector is estimated to cross $7 billion by 2026
Region-wise, North America will lead the market with over 4600 million dollars in 2025
Gartner has predicted that 5G mobile network will accelerate the adoption of AR
Forrester has revealed that AR will be mainstreamed in the year 2021
These stats show the growing importance of AR technology in the healthcare sector. It can enhance patient care significantly in two ways- first, it can help doctors diagnose and treat patients with the utmost accuracy. Second, advanced AR-based solutions can enable healthcare organizations to offer better services. Here are some of the top use cases of augmented reality in the healthcare sector. 
Top Opportunities for AR Technology in Healthcare
Some of the groundbreaking ways augmented reality can help the healthcare sector to thrive. Let's dig deep into these ways. 
1. Surgical Procedure
AR enables surgeons to visualize the bones and internal organs of patients even without cutting open a body. AR-based surgery solution enables surgeons to get access to patient's information in real-time to save their lives. Whether the surgical procedure is complex or straightforward, AR-powered surgery can always assist surgeons to visualize bones, muscles, and internal organs without having a cut. Reconstructive surgeries can be a great beneficiary of this technology. 
2. Practice
Learning a dissection in the lab is one thing, and practicing it is a completely different thing. Medical institutions have initiated implementing AR into their curriculum to provide hands-on experiences to their students. Students can easily simulate patients and surgical encounters using AR technology. 
3. Diagnosis
Some patients find it challenging to describe various symptoms to physicians in an accurate way. But, with an AR-based diagnosis, the patient can easily express their symptoms. Physicians can also determine the patient's symptoms effectively and diagnose accordingly. Nurses can determine the veins easily and start the course of treatment. 
4. Virtual Collaboration
AR comes to the rescue of remote patients. It is possible through AR-based tools that a specialist can follow all the instructions of the primary surgeon and treat remote patients. Doctors can use AR technology in collaborative surgeries through AR video conferencing. Even if the main surgeons are far away from the clinic, other specialists can perform surgeries using AR tools. 
Also Read- Key Impact of Digital Transformation in Healthcare and Pharma Industries
5. Patient Communication
AR can make communication more interactive and effective. It also plays a vital role in improving the patient and doctor relationships. Be it cataract or AMD, or other diseases, AR technology can assist physicians in diagnosis and treatment. 
6. Innovation in Pharmaceuticals
Augmented reality can show how the new drug works in 3D. Laboratory technicians and drug researchers can take advantage of this feature to discover new and innovative drugs. What s more, AR technology is useful for showing the impact on the anatomy, which also enables pharmaceutical companies to bring innovation in drug discovery. 
7. Remote Assistance
Augmented reality remote assistance solutions enables healthcare organizations to get assistance for repairing and maintaining the medical instrument. The remote assistance app with desired features can save a lot of time for technicians and doctors by keeping medical instruments ready for use. 
8. Spreading Awareness
This is one of the biggest benefits of AR in healthcare is spreading awareness about drug interactions and side effects among patients. It is also possible to show patients how specific diseases can affect various body parts in a 3D image using AR technology. 
Concluding Lines
Healthcare organizations can leverage the benefits of AR technology by implementing innovative solutions. However, it is necessary to make a roadmap before implementing this technology to streamline processes and improve the medical experience significantly. It is better to consult a reputed AR solutions developer for discussing the scope of AR for your organization. 
We, at Rejig Digital, work dedicatedly to bring automation and digital transformation to the healthcare sector. Our customized IoMT-based solutions can assist you to improve patient experience significantly using advancements of AR technology. Do you want to know about the scope of augmented reality in healthcare? Simply drop us a line at info@rejigdigital.com and we will contact you soon with the most suitable roadmap for your healthcare organization.