Let's start with the basics. Digital transformation solutions not only bring automation in various processes but also provide actionable insights for making informed decisions. Whatever digital transformation in manufacturing offers, one thing is for sure, it can change the shape of the manufacturing sector. In a PwC survey, out of 2000 manufacturing enterprises, a whopping 86% expect to gain from reduced costs and increased revenue through digitization in the next five years.  
What's more, digital transformation in manufacturing enables the industries to leverage the benefits of Industry 4.0 and achieve new levels over the period.  Digital technologies including AR, wearables, cloud computing, IoT, and big data analytics enable manufacturers to make their processes more intelligent and smarter than before.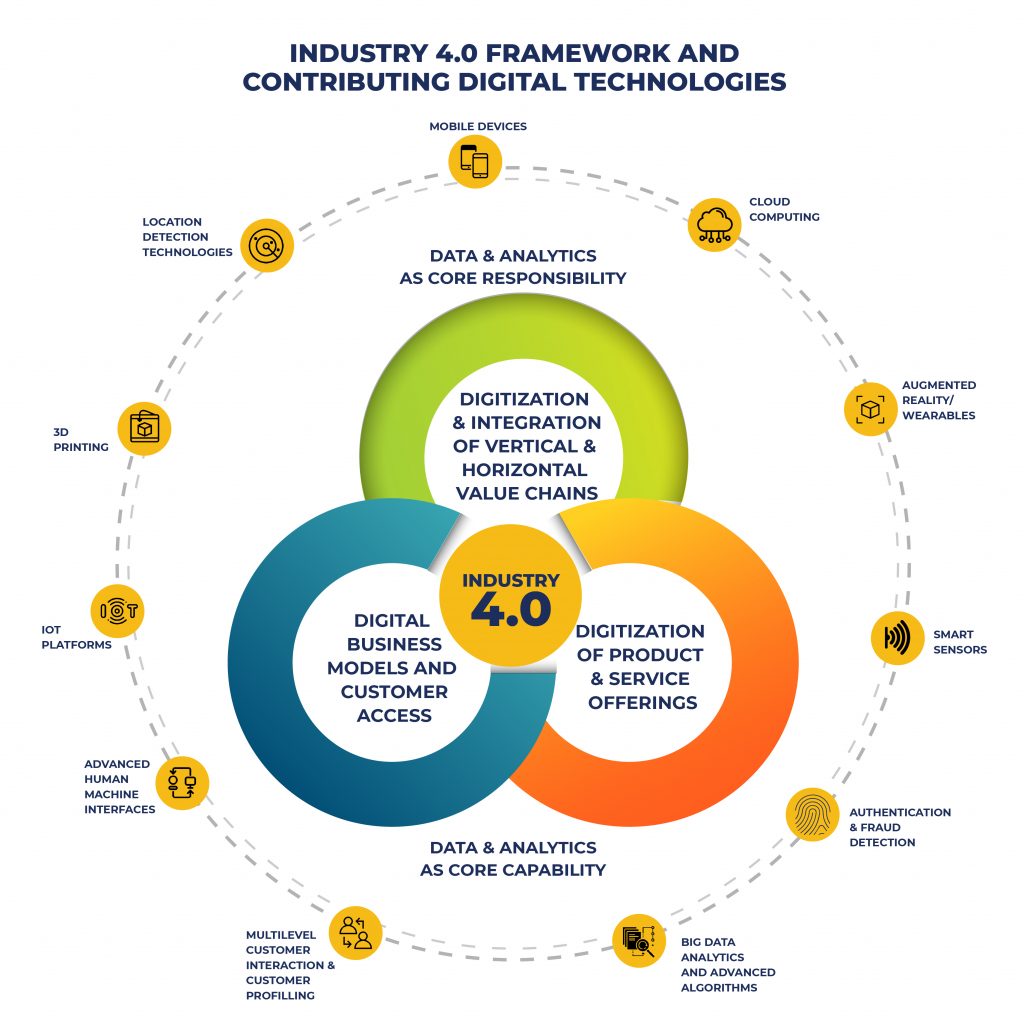 These days, market trends and consumer behaviors are changing rapidly across the world. All major industry sectors have to cope with increasing challenges and intensifying competition, and the manufacturing sector is no exception!
Tech-savvy customers have an option to buy from all over the world and they tend to compare products before purchasing, therefore, it is necessary for the companies to offer innovative products and excellent customer services. 
In this scenario, manufacturers count on digital transformation solutions and turn the corporate data into valuable insights. Simply put, manufacturing companies have started to adopt an integrated digital approach from legacy isolated processes and realize its benefits. In this digital age, manufacturers have started leveraging the benefits of cyber-physical connectivity, digital processing, and data utilization for generating more revenue.  
Here are the key benefits of implementing digital transformation in manufacturing. 
Five Benefits of Digital Transformation Solutions for Manufacturing
Potential benefits of digital transformation in the manufacturing sector are based on cost-effectiveness and quality assurance. 
1. Cost Reduction
Digital transformation solutions can capture the real-time data through IoT devices and analyze the same through AI and ML-powered devices. Talking about the manufacturing sector, it is easy to manage the inventory and monitor critical production processes using the digital transformation.
Manufacturers need to deploy less labors for less critical production thanks to automation. It results in reduced expenditure and increased productivity. What's more, remote monitoring solutions can enable manufacturing companies to manage inventory in a real-time. 
2. Quality Assurance
This is another major benefit of digital transformation solutions. Remote assistance solutions can help manufacturers to maintain and manage machines at remote plants.
These solutions also enable them to understand the defects and reduce machine downtime through digital data analysis. Manufacturers can easily save a lot of time, effort, and money in terms of visiting charge, transportation charge, and other charges of expert technicians. 
3. Data Integration
Siloed data can pose a challenge of making real-time and right decisions. However, advanced digital transformation solutions, which combine advancements of emerging technologies including AI, ML, IoT, and enterprise software, can offer interactive and centralized dashboard to make insightful decisions quickly. This is possible through data integration.
Thanks to Industry 4.0 level solutions, data analytics solutions can assist manufacturers to increase productivity, improve performance, and enhance decision-making for achieving a good ROI. 
Also Read- How AR Remote Assistance Solution Benefits Manufacturing Industry
4. Improved Safety
Manufacturing staff has to deal with hazardous machines and restricted areas. IoT and sensors can keep them away from such areas and reduce the risk of any accidents. The risky environment of the manufacturing sector can be managed effectively using smart devices as they can identify any potential threats quickly. The digital solutions also keep employees motivated while ensuring their safety at the workplace. 
5. Higher Productivity
Industrial IoT and AI can help manufacturers digitalize various processes and enable them to monitor performances of humans and machines alike. Various connected devices obtain data and facilitate operators to identify any issues in the machine's performance and efficiency in real-time. This data can also assist them to prevent maintenance or service costs while increasing the overall productivity at the plant. 
Operators can easily record and transfer the crucial data on the move and thereby simplifying complex processes. In a way, the productivity of both the employees and equipment increases on the floor. 
Concluding Lines
All you need to implement the right and most suitable digital transformation strategy. A well-planned roadmap can assist you to establish a robust digital transformation network at your workplace. You can take help of a reputed and reliable digital transformation solutions provider to meet these objectives effectively. Your digital transformation partner's expertise and proven track record can help you keep the digital transformation journey as smooth as possible.
 Rejig Digital is a leading digital transformation company that offers high-end, feature-rich solutions to assist your manufacturing company to move into the future by bringing automation and optimizing core processes effectively.
Do you want to know more about our tailored digital transformation solutions? Just drop us a line at info@rejigdigital.com, and we will get back to you with an effective roadmap for your manufacturing company.